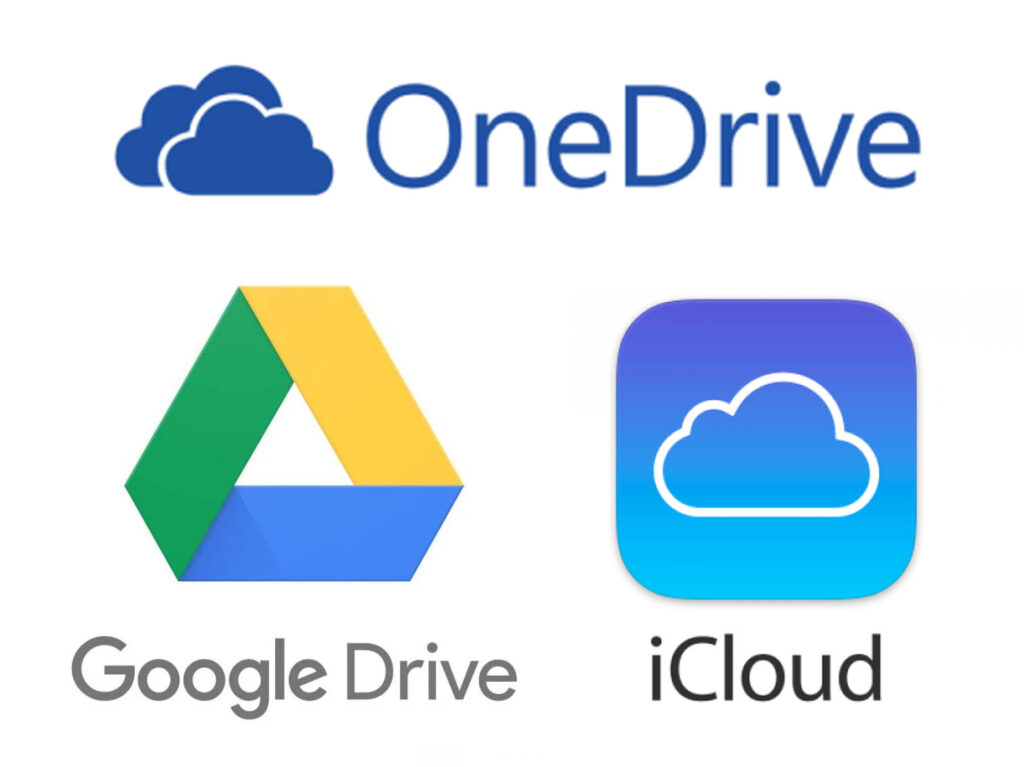 The "Cloud" is an online data storage service, an alternative to using an external hard drive. In order to access the cloud, you have to connect via the internet where data is accessible through a web-based interface. The cloud storage services we recommend are iCloud, Google Drive and OneDrive. Other providers are Dropbox, Sugar Sync, Box.net, Ubuntu One and SkyDrive.
Pros
Affordable: Using cloud storage services come with a few advantages. The first one being that it's cost effective. It eliminates the need to pay for software licences, server infrastructure and updates since this is all included in one monthly price.
Accessible: Cloud services are also easily accessible, they can be accessed from anywhere around the world as long as you have internet connection. Since data is stored remotely, this is good for frequent travellers or if your team is located in different time-zones. There's not many restrictions that come with using cloud services, because of this people can work from home or abroad.
Easy Recovery: This is a good way of implementing an emergency backup plan by storing a second copy of important files. Since all data is backed up and stored on an external device, there is a limited risk of system failure. This means you can ditch the pricey data retrieval process, which can lead to a hard-drive malfunction. Cloud services backup you data for you, so there's no need to back-up on an external devise yourself. As a result you save time and stress.
Security: Some cloud providers offer better security for businesses such as password protection which sends data using encryption technology via the internet.
Cons
Privacy: Because you're storing data remotely, third party cloud providers will have any sensitive business information. It's important to select a reliable provider that will keep your information safe.
Difficulty Migrating: It is difficult to move or transfer your data from one cloud provider to another. This is especially the case with medium to large businesses as they tend to store a lot of data and it is known as 'vendor lock in'. Because of the size of the data, it becomes a problem to move to another provider.
Requires Internet: The only way you can access your stored data is with an internet connection. If this fails it can cost a significant amount of downtime for the business. Additionally you have a slow internet connection, you'll have to wait a long time to be able to access your data remotely.
Fixed Contracts and Lifetime costs: There are some cloud providers that try to offer a fixed long term contract. This might be aggravating as you could be paying for storage space you don't need or use. The price for data storage can increase over time and can add up. Networking costs can be added if your data is in the cloud and you use local applications
In conclusion, despite the concerns and potential security threats, the pros out-way the cons. The accessibility, cost savings and easy recovery are more beneficial than the combined risks. Cloud services are definitely worth considering for your business's infrastructure and budget.
As we mentioned before our top cloud services are iCloud, Google Drive and OneDrive. For Androids we recommend backing up your data to Google Drive and for iPhones, back up to iCloud, although we suggest not backing up your pictures and using OneDrive instead. This will save A LOT of storage space on your device, which is a common issue with iPhone users.
If you have a Microsoft 365 Family subscription (previously known as Office 365), you can share it with up to 6 people, each with 1TB of OneDrive cloud storage, so 6TB in total. It works on Windows, macOS, iOS, and Android, with access to the latest updates and office apps. Or you can opt for the free version of OneDrive that comes with 5GB storage for one person but no office apps.
OneDrive is especially handy for storing pictures and videos. You can connect your phone, and pictures will automatically download as soon as you take a photo and then it'll be saved in your folder, where you can then access it on your tablet to edit, then on your computer to publish online.
So if you have a lot of free space left on your cloud storage and you need to find ways to utilise them, here are a few interesting options:
Upload Your Voice Memos to Dropbox
RecUp is an iOS app that records voice memos and sends it directly to your Dropbox. It then saves it as a compressed M4A file format. The app costs £1.99 in the iTunes Store.
Save All Your Email Attachments
You can save all your Gmail attachments to Google Drive, OneDrive, Dropbox, and Box. This can easily be done using Attachments.me. They offer a free plan and two paid options. You can set up rules or filters to redirect specific files to specific folders.
Embed Videos with Google Drive
Google Drive is a convenient way to upload your videos and embed them on a website or blog. A good alternative to using YouTube or other video hosting sites.
At PCW Solutions our cloud service offers an extra layer of protection against ransomware along with up-to-date backup status reports whenever you need them, so you know your account is in good hands.
We also offer Exchange email, where you can connect your calendar and contacts with your email for easy access. This also consist of email scanning, filtering and attachment sand-boxing, so there's no need to worry about spam emails, threats or viruses.
Let us know what your best tips are for cloud and what your cloud service options are. Variety is the spice of life!
Read our last article on the Samsung Galaxy Note 20 Ultra & Watch 3 Unboxing