On September 14th, Apple launched new iPhones, iPads, Series 7 Watch and spoke about the new iOS 15 update. Here's a quick recap of everything Apple announced during the event.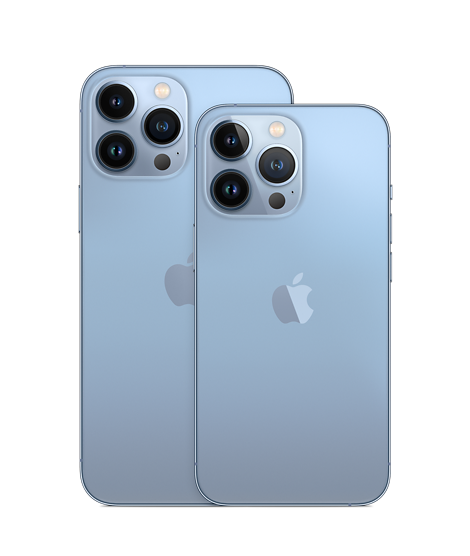 iPhone 13/iPhone 13 Mini
The all-new 6.1-inch iPhone 13 and 5.4-inch iPhone 13 minicomes with the A15 Bionic chip – this is the same as the Pro line.
It has a dual-camera system, which is arranged diagonally, and features longer-lasting batteries. Apple have said the iPhone 13 will last 2.5 hours longer than the iPhone 12 and the iPhone 13 mini will go 1.5 hours longer on a single charge.
Other updates include a more efficient display, a new 5G chip, and a tool called Cinematic Mode, which is like the popular Portrait mode feature but for videos.
iPhone 13 Pro/iPhone 13 Pro Max
The higher-end iPhone Pro line was the highlight of Apple's event. The 6.1-inch iPhone 13 Pro and 6.7-inch iPhone 13 Pro Max feature Apple's new, A15 Bionic chip, which Apple said is the "fastest CPU in any smartphone." This will give the iPhone improved machine learning capabilities, such as real-time video analysis and the ability to analyse text in photo.
The Pro devices pack a five-core CPU with 50% faster graphics. This is an upgrade that will appeal to many gamers — as well as a bright Super Retina XDR display with a faster refresh rate and an all-day battery life. Users now have an option for one terabyte of storage which is double the prior maximum storage capacity.
The camera system comes with a new 77 mm telephoto lens with 3 times optical zoom, as well as new wide and ultrawide cameras.
The entire new iPhone line will start shipping on Friday, September 24.
New iPad/New iPad Mini
Apple showed off updates to its iPad and iPad mini line. Under the hood, the 10.2-inch iPad features a powerful A13 chip with 20% faster performance than the previous model. Apple says it's now 3 times faster than a Chromebook.
The updated iPad comes with a new 12MP ultrawide camera with Center Stage, which uses machine learning to adjust the front-facing camera during FaceTime video calls, and more accessory support that works with the first-generation Apple Pencil. It also supports a True Tone feature that adjusts the screen's colour temperature to ambient lighting.
The 8.3-inch iPad mini now comes with smaller bezels, more rounded corners, upgraded cameras on the front and back, Apple's Liquid retina display, USB-C support, magnetic support for Apple Pencil, an updated speaker system, and new colours, such as pink and purple.
Apple Watch Series 7
Apple unveiled the new Apple Watch Series 7, a slimmer device with a wider screen than the older models. The new watch has a display that is 20% larger than the Series 6. It can display 50% more text and has a full keyboard that you can tap or swipe to type out text messages.
Watch the full Apple event as it happened, click the video below!
Read our last article on Microsoft Accounts can now go passwordless!